We value your health and safety! Please click on the image above (or here) for COVID-19 resources, and information about how Cochise County libraries are responding.
---
Cochise County Library District Locations
---
---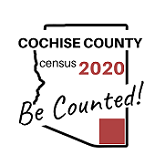 Click on the image above to go directly to the census survey. For more information about the census in Cochise County, click here.
The Elfrida Library is still offering limited services as part of the effort to slow the spread of COVID-19.
As of September 14, the library is offering computer use by appointment. Access is limited to one person at a time, for a maximum of 45 minutes, and face coverings are required.
The library continues to offer a range of services outside the building, including curbside pickup for library materials and copy/fax service. (Look for details on the Curbside Pickup page.)
Library wi-fi is available outside the building from 6 am to 8 pm daily, and the library has laptops available for outside use, by appointment. Library ebooks and digital materials are available 24/7.
If you have questions, please call 520-642-1744 or 520-432-8937, or email sfulton@cochise.az.gov.
aaa
The Elfrida Library is a branch of the Cochise County Library District.
The library offers a wide selection of library materials for all ages, in English and Spanish. The library provides access to items from other public libraries across Cochise County, and hosts special programs for children and adults.
The Branch Manager is Stephanie Fulton.